Haunted Places in Indiana
When you think of paranormal activity, haunted places in Indiana may not be the first to come to mind, but Indiana does offer a variety of ghostly haunts. From haunted hospitals to spooky libraries, Indiana is filled with haunted locations.
Most Haunted Places in Indiana
Whether you live nearby and are looking for a day trip filled with local history and spiritual activity or you are planning a cross country paranormal trip, Indiana offers a selection of haunts for you to visit.
Ghostly Screams at Central State Hospital, Indianapolis
Now closed, the Central State Hospital on Washington Street, just west of downtown Indianapolis, has a 146-year history as a psychiatric treatment facility. The patients who were treated there ranged from the mentally handicapped to the criminally insane. The hospital was overcrowded much of the time, and patient living conditions were less than optimal. The most severely afflicted were housed in the basements where there was little light and poor ventilation. Rumors abound of patients being shackled to the walls in an effort to keep them from harming themselves or others.
Since its closing in 1994, night guards, police officers and others have reported hearing screams in the deserted buildings, which have now been razed. They also saw apparitions of patients in gowns or robes running down the halls, or across the streets. Combine this with the many ghostly stories told by the medical staff while the hospital was still open, and you have the makings of a great haunting.
The former site of the hospital is now a building site for new, private homes.
Paranormal Activity at Hannah House, Indianapolis
Once known as the house that reeks of death, the Hannah House in Indianapolis is speculated to have been one of the many stops along the underground railroad where escaped southern slaves were smuggled on their way to safety. Legend has it the house suffered from a basement fire, killing several slaves who were hidden there. Since that time, smells of death, moving objects, strange sounds, and unexplainable opening and closing of doors have plagued the historic home.
Gray Lady Ghost of Willard Library, Evansville
Staff and visitors have seen the lady dressed in gray roaming the basement area of the Willard Library on First Avenue in Evansville. In fact, she was once captured on a security camera near the restrooms. If you can't make it to Evansville, however, no worries. The library is so notorious for the Gray Lady haunting that it has several ghost cams online you can watch to see if you can catch a glimpse of her.
Diana of the Dunes Lake Michigan Ghost, Gary
Since 1925, people have reported seeing the lovely figure of a naked woman running along the beach and swimming in Lake Michigan at the Dunes State Park, located east of Gary, Indiana. The apparition is said to be that of Alice Marble Gray, a magazine editor from an influential Chicago family. Alice loved the area as a child, and made her home there for many years until her marriage to an abusive husband. When his mistreatment finally led to her death, she returned to the area and resides there still.
Blue Light Ghosts at Skiles Test Home, Indianapolis
The House of Blue Lights legend revolves around the Skiles Test Estate in Indianapolis. When Test's wife died, he supposedly had her encased in a glass coffin and surrounded it with blue Christmas lights because he believed that blue lights would attract ghosts. Apparently, he experienced some success, because a ghostly blue lady or light has been seen floating in the area, even now, long after the Test estate was demolished.
Bellhop Ghost at French Lick Springs Hotel, French Lick
If you're looking for a place to stay in or around French Lick and you're a fan of hauntings, then you just may encounter a ghostly bellhop or elevator operator at the beautiful and luxurious French Lick Springs Hotel. Thomas Taggert, who built the historic resort hotel, is said to remain there.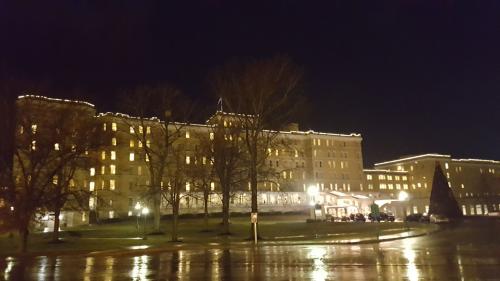 Whispers Estate, Mitchell
A 3,700-foot Victorian estate built around the turn of the 20th Century, Whispers Estate is notoriously haunted. Rumors suggest several children and family members died in the home, and their ghosts remain. Much of the activity started during a 2006 home rennovation, and the estate has been heavily investigated and featured in the media. Currently, regular events are held for people interested in seeing if they can encounter the Whispers Estate ghosts.
Indiana's Most Haunted
There are plenty of haunted places to visit, stay, and explore in Indiana. With its rich history, Indiana is most certainly a place for ghosts.