Haunted Places in Michigan
There is no shortage of haunted locations in the state of Michigan. From the phantom ships and haunted lighthouses of the Great Lakes to the ghostly activity in the cottages that are nestled within the forests, Michigan is a state where the spirits are restless.
Michigan's Most Haunted Houses
Some of the most haunted places in Michigan are houses. All across the state, living humans aren't the only inhabitants of these spooky haunted homes. It is important to note that, fascinating as haunted claims are, some of the homes listed below are private residences and not open to the public.
Ghosts at Columbia Court Apartments, Battle Creek
This 100-year old apartment building boasts a variety of activity of a supernatural nature. Occurrences include doors opening and closing by themselves, lights flickering, and the sounds of voices heard at night.
Screaming Ghost of Bailey House, Lowell
Located on Bailey Street in Lowell, visitors to this abandoned house claim many activities including running water in a house that has had its utilities cut off. Blood stains have been reported to appear on walls, and a creepy presence pervades the atmosphere throughout. Some also report encountering the ghost of a screaming girl.
Shadow People at Felt Mansion, Saugatuck
Felt Mansion is reportedly haunted by numerous entities and boasts encounters with shadow people within its walls. The tale behind Felt Mansion is that of the inventor Dorr E. Felt and his wife, Agnes, who haunts the premises. Agnes died soon after the house was completed, and rumors suggest she haunts the mansion as a way of enjoying the home after death in a way she didn't have the chance to in life. The grand estate is available for tours and hosts private and public events, as well.
Legendary Michigan Haunts
Michigan has many legendary haunts with compelling stories to explain these ethereal visitors.
The Ghost of Minnie Quay, Forester
The small village of Forester rests on the eastern Michigan coast. It is in this town where James Quay and his wife lived. They built a tavern here in 1852, and this tavern still remains yet lies abandoned. James and his wife had a daughter named Minnie who, at fifteen years of age, fell in love with a sailor who occasionally visited Forester.
The townspeople and Minnie's parents greatly disapproved of the relationship. During these times, "good" girls did not marry sailors. Minnie Quay fell deeply in love with this particular sailor in spite of her parents' objections. One spring in 1876, word arrived that the sailor had perished in a storm while at sea. Young Minnie was so heartbroken she committed suicide by jumping off the town pier where she drowned under the icy waters of Lake Huron.
As the decades passed, people who visited this part of the Lake Huron shoreline reported hearing mournful crying from the water. In the ensuing years, young women have reported seeing a teenage girl beckoning them from the water. One girl in particular reported she had seen this apparition before. Shortly after telling her friends, she was also found in the lake - another teenage drowning victim.
Today, the abandoned Old Quay tavern still stands across the street from the Forester Inn. It stands as a testament to the abandoned dreams of a lost love. Does the restless spirit who once lived in that inn still search mournfully within the dark waters of Lake Heron for the sailor she loved?
The Haunted Ghost Village of Sheldrake, Paradise
Is it possible for a town to disappear off the face of the earth? This is exactly what happened to the village of Sheldrake located four miles north of Paradise, Michigan. The earliest settlement of this town was in the early 1800s, and the primary industry was lumber. The village seemed destined for tragedy since several major fires swept through the town. The last significant forest fire was in 1926, after which most of the residents moved south and founded Paradise, Michigan. In fact, many of the ancestors of Paradise residents were residents of Sheldrake Village. Of the few buildings left today, most of them are considered haunted. Look on the local dock for a sea captain, or check the Palmer House for lights that turn on and off.
Phantoms of Michigan Bell Telephone, Grand Rapids
Warren Randall lived with his wife, Virginia, in a large mansion called the Judd-White House. Warren was a local brakeman for the G.R. and Indiana Railroad. In 1908, Warren had a terrible accident at the railroad and lost his leg, and it was replaced with a wooden one. Warren's accident marked a point of psychological distress and constant arguing between Warren and Virginia. Warren was convinced his wife was unfaithful, preferring other men who were not disabled.

The paranoia escalated to violence at times, and police were reportedly often summoned to the Judd-White house to end domestic disturbances. Finally, after Warren failed to kill her with a razor, Virginia left him. No one knows what happened on that fateful summer night in 1910, but somehow Warren convinced Virginia to come back to the house once again. That night, they had another argument that ended when Warren beat Virginia with his wooden leg. He proceeded to seal the room using towels, opened a gas fixture in the room, and allowed it to fill with fumes. Unable to wait for his own death, he slashed his throat with a straight razor.

Unfortunately, the couple went unmissed for two entire weeks. Finally workers from the office building next door noticed a strange smell coming from the house and reported it. When representatives from the Board of Health and workers from the gas company broke open the door, they discovered a cloud of noxious fumes and the two horribly decayed bodies.

The Judd-White house was reportedly extremely haunted with lights, sounds, screams, and the sound of a woman begging for her life coming from the abandoned house. Ten years later, the house was purchased by the local phone company and torn down. The Michigan Bell Telephone Company offices replaced the building in 1924.

Ever since the new building was built, residents of Grand Rapids started reporting receiving odd phone calls late at night. When the calls were eventually traced, they were found to originate from within the phone company office building.
Haunted Cemeteries
Michigan is also home to many haunted cemeteries.
Ghosts at Reynolds Cemetery, Jackson
In November of 1883, a horrible mass murder took place that remains unsolved to this day. Eunice White, her husband Moses Polley, and Eunice's father, Jacob Crouch were shot to death in Jacob's home while asleep. The murderer was never found. Eunice and her father were buried in different cemeteries. However, according to legend, on the anniversary of the murder, Eunice travels to Reynolds Cemetery where her father is buried, so the two can be reunited.
Lady in White at Ganong Cemetery, Westland
Visitors to Westland's Butler Cemetery (also known as William Ganong Cemetery) report seeing an apparition of a lady in white here.
Crying Statue at Oak Hill Cemetery, Battle Creek
With a number of Battle Creek's famous pioneers buried here including Sojourner Truth, C.W. Post, and W.K. Kellogg, Oak Hill Cemetery is also home to a tall stone statue of the Virgin Mary. According to legend, the statue, nicknamed Crying Mary, cries at the stroke of midnight every Sunday.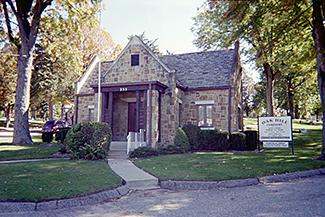 Tour Haunted Hot Spots in Michigan
Michigan is a state filled with history and hauntings. Many are open to exploration. However, keep in mind many locations are not open to the public, but you can still walk around the area and speak to local residents about what they may have seen or heard.