Haunted Houses in Georgia: 9 Must-See Paranormal Hotspots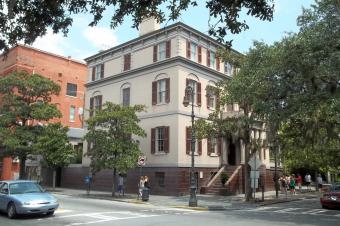 If you were to list haunted houses in Georgia, the following homes would be at the top of most paranormal enthusiasts' lists. Each location has a long history as places where ghosts regularly haunt. On your next trip to Georgia, consider these destinations as must-see places on your list of ghost tours. Real haunted mansions are fun to visit for two reasons. First, they have a history that can be traced to particular individuals. Second, they are usually easy to find.
Child Ghost at Forsythe Park Inn, Savannah
Also located in Savannah, the Forsythe Park Inn, Savannah was owned by Aaron and Lois Churchill. They resided there with their adopted daughter, Lottie. Lois took in her younger sister Anna, who was ill. Lottie caught Anna and Aaron in a romantic embrace and decided to stop that relationship dead in its tracks. To accomplish this, Lottie decided to poison the tea being served in the afternoon. Anna choked and died on the poisoned concoction while Lottie confessed her deed to Lois. Lois told Lottie that Anna was actually her real mother. Unfortunately, Lottie was driven insane on the spot, and ended up spending the rest of her life in a mental institution. It is believed that the child-like laughter that can be heard all hours at this home is that of Lottie. The Inn is located at 102 W Hall Street in Savannah.
Haunted Panola Hall, Eatonton
Located in Eatonton, Panola Hall is haunted by the ghost of a young woman named Sylvia. Although no one knows the ghost's real name, the home's owners gave her one. Sylvia has a reputation for being a snob and only reveals herself to people described as her equal in social class. People who have seen her describe her as wearing a white hoop-skirt dress and a red damask rose in her hair. Panola Hall is a private residence.
Paranormal Activity at Hampton-Lillibridge House, Savannah
This Savannah house is considered one of the most haunted locations in the city. It is probably best known as the Mercer House, owned by Jim Williams from the book, Midnight in the Garden of Good and Evil. Mr. Williams died in this home in 1990. Many paranormal events have been documented here, including a ghostly gray-haired man appearing, footsteps in the upper floors when no one was upstairs and screams at night. In 1963, an exorcism was performed in order to rid the house of these spirits. The house is located at 507 East Julian Street in Savannah and is frequently featured on ghost tours of the city.
Haunted Wayne-Gordon House, Savannah
Located in Savannah, the Wayne-Gordon House was home to Willie and Nelly Gordon. Willie and Nelly were the parents of Juliette Gordon, founder of the Girl Scouts. They had been married for many years when Willie died. However, the love affair didn't end in death. The evening Nelly passed away, several family members reported seeing Willie's ghost appear and enter Nelly's bedroom. Shortly afterwards, Nelly died. Everyone who was at the house on the evening of his visit believed that Willie had returned to bring his wife over to the other side. The house is located at 10 10 East Oglethorpe Avenue in Savannah. The house may be available for guided public tours.
Supernatural at Kehoe House, Savannah
William Kehoe House, now a Savannah bed and breakfast, is one of the more famous haunted houses in Georgia. The history behind this house is not filled with negative emotional upheaval and dreadful violence. The Kehoes were a God-fearing family who, despite their relative wealth, remained down-to-earth. Although some of their children died in infancy, this was more to do with the tragic conditions of childbirth at the time.
Although the family history is fairly innocuous, the house itself still provides many tales of visitations and supernatural occurrences. William Kehoe himself is said to haunt the house, particularly his old study room, while the presence of Annie Kehoe, his wife, and the ghosts of some of their children are also believed to make themselves known. In contrast to a lot of hauntings this particular case is one of the more positive ones, with the spirits of the Kehoes said to be friendly and curious, rather than horrific and frightening. The bed and breakfast is located at 123 Habersham Street in Savannah. Stay there if you dare.
Poltergeists at Pirate's House, Savannah
Of all the real haunted houses in Georgia, Pirate's House is possibly one of the most stereotypical of haunted dwellings. Built in 1753 in Savannah, the house, now an inn and restaurant, has all the historical features that one would expect from a haunted site, including pirates, sailors, violent drunks and much tension and strife.
Manifestations that have been reported on this particular site range from the sound of ghostly laughter to poltergeist style activity such as objects violently flying around without human intervention. Pirate's House continues to be one of the most incident-packed paranormal sites in Georgia, and can be visited by people who are curious about the manifestations, as well as those who are just looking for a delicious bite to eat. It's located at 20 E Broad Street in Savannah.
Spirit of a Girl at Thomas-Carithers House, Athens
An Athens sorority house, the Thomas-Carithers House is also known as the "wedding cake house." It is located on Milledge Avenue just off campus of the University of Georgia. Currently, the Alpha Gamma Delta sorority is using the home. In 1979, a girl from this sorority committed suicide when her boyfriend broke off their engagement. Girls who live in the same room reportedly become engaged also. The ghost of the departed girl frequently appears walking the hallways near her old room.
Eerie Manifestations at the Olde Pink House, Savannah
This Savannah home, now a restaurant, is host to several manifestations including the apparition of James Habersham, the original owner, who appears to staff at the house between the months of October and March. There are also several mischievous entities that like to play pranks on unsuspecting patrons of The Olde Pink House. The restaurant is located at 23 Abercorn Street in Savannah.
Confederate Ghost at the Warren House, Jonesboro
Located in Jonesboro, the Warren House first served as a Confederate hospital during the Civil War, and then as Union headquarters towards the end of the war. People have reported seeing a Confederate soldier holding a candle in the windows at night, and there is a blood stain in the attic that can't be cleaned. The cemetery across the street is also reported to be haunted. The house, now an event venue, is located at 102 West Mimosa Drive in Jonesboro.
History and Haunting in Georgia
With a rich history, Georgia is a state ripe for hauntings. Perhaps that's why so many homeowners of historical houses relay spooky tales of things that go bump in the night.