11 Notorious Haunted Insane Asylums From Across the US
Notorious Haunted Insane Asylums and Stories
Often the scene of so much human suffering, is it any wonder there are so many reports of haunted insane asylums? Tales abound of former residents who still walk the halls and frightening echoes of the past still heard upon the grounds even after the buildings are demolished.
The urge to investigate these hospitals is very tempting, but it is also extremely dangerous and often illegal. It's better to learn some of the stories from this slideshow lest you chance becoming the latest urban legend connected to one of these tragic locales.
The Ridges Asylum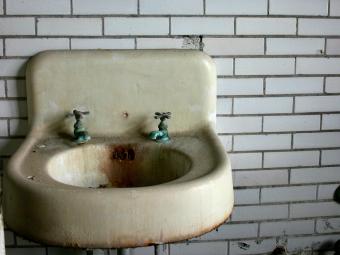 The site of many atrocities performed under the guise of mental health care, the Ridges in Athens, Ohio is connected to the story of a patient named Margaret Schilling. Margaret was somehow locked in an abandoned ward and died there. Her naked body was undiscovered for several weeks, and today the floor of that ward still shows the human-shaped stain her body left behind. Does Margaret's spirit still haunt the hallways of The Ridges? Some ghost hunters believe so.
North Hampton State Hospital
North Hampton State Hospital in Massachusetts was reportedly haunted by residual sounds from the past. The site has been almost completely demolished, but the curious might wonder if the new residents of the planned housing community will still hear slamming doors, squeaking gurneys and tearful moans from denizens of the past.
Bartonville Mental Hospital
From Bartonville Mental Hospital in Peoria, Illinois comes the story of "Old Book". This patient assisted in the burial of many other inmates and was known for wailing pitiably for their deaths. At his own death, the wailing was even louder, and many doctors, nurses and other witnesses reported looking over at the graveyard elm to see Old Book's ghost crying in anguish.
Waverly Hills Sanatorium
Waverly Hills Sanitorium in Kentucky has been the subject of famous investigations including those conducted by TAPS. The team captured video of a mysterious shadow figure that seemed to pop up out of nowhere. That film is one of the most debated and analyzed incidents of a ghost caught on video.
Byberry Mental Hospital
The miles of catacombs beneath the abandoned Byberry Mental Hospital in Philadelphia, Pennsylvania have given rise to some strange stories. One especially frightening urban legend concerns a former patient who reportedly still lives down in the tunnels. It's said he wields a large knife and chases unwelcomed explorers. Is he a ghost or tragically real? Either way, do you really want to find out?
Wernersville State Hospital
Wernersville State Hospital in Pennsylvania is also said to be haunted. This asylum is connected to tales of a headless orderly and the ghost of an elderly patient who carries a baby with her around the grounds. Supposedly there is an unmarked graveyard somewhere on the grounds.
Pennhurst Asylum
Pennhurst Asylum, Spring City, Pennsylvania (closed 1986) has a haunting history of murder, abuse and torture of patients chained to the walls. Children were said to be confined to cribs regardless of age. Paranormal investigators report chilling EVPs, temperature changes, being pushed and objects thrown across rooms.
Trans-Allegheny Lunatic Asylum
Trans-Allegheny Lunatic Asylum in Weston, West Virginia was closed in 1994. In 2007, Joe Jordan purchased the facility and offered ghost tours. Some of the resident ghosts include Lily, a young girl along with her playmates, misty forms, phantom footfalls and entities in the isolation cells. The disembodied cries and moans of wounded Civil War soldiers are perhaps the most frightening.
Rancho Los Amigos Hospital
Rancho Los Amigos Hospital in Downey, California was originally a working farm for the poor but eventually became a hospital and mental ward. Shadowy figures and faces in the asylum windows, flickering lights, and a wandering shadow man are just a few of the paranormal activities reported.
Taunton State Hospital
Taunton State Hospital in Taunton, Massachusetts is a currently operating psychiatric hospital (circa 1854). The hospital is said to be haunted by the ghosts of its frightening past. One of the few female serial killers, Jane Toppan, slaughtered 31 patients and a nurse. Part of the hospital's macabre past includes rumors of satanic rituals performed by doctors and nurses in the basement. The creepiest story from patients is about a shadow man who crawls about the walls.
Broughton State Hospital
Broughton State Hospital (a state psychiatric hospital) located in Morganton, North Carolina is considered one of the most haunted places in the state. Still in operations, patients and staff report seeing vaporous clouds, shadows playing solitaire and blue lights. Underground tunnels used to transport patients to different buildings are also said to be haunted.
Stories from Haunted Asylums
The many stories of ghosts haunting the halls of asylums present investigators with a cornucopia of possible paranormal activities. Real ghost pictures and scary true ghost stories intrigue and capture the imagination with the lingering question if there life after death.