Ghost enthusiasts in Washington State have plenty of haunted places to explore. Whether you want to encounter a ghost that lives in a historic theater or visit an entire haunted town, get ready to have some eerie encounters at these spooky haunted places in Washington.
Port Gamble
Located on the Kitsap Peninsula just a ferry ride away from Edmonds, WA, you'll find picturesque Port Gamble, a company-built lumber mill town with buildings dating back to the 1850s. Pope Resources owns most of the town, and the company has preserved its historic buildings and open spaces.
Many of the buildings and public areas of the town are haunted including the cemetery, the Walker-Ames house, the theater (which sits above the old morgue), and the museum. In fact, so many people have shared claims of apparitions, odd sounds, electronic voice phenomena, and other evidence of ghosts that the town holds an annual ghost conference.
It was during the ghost conference where paranormal investigator and author Nicole Strickland had a memorable encounter in the Walker-Ames house. "With many haunted locations I visit, I can typically sense how eager the spirits are to communicate and share their stories," Strickland notes. "However, with the Walker-Ames House, it's quite different: upon entering, I was overwhelmed by the powerful, residual emotions of oppression and sadness. As I ascended the main staircase and entered one of the upstairs rooms, tears enveloped my eyes and I started to cry heavily."
Port Gamble is located on the Kitsap Peninsula. You can visit public areas, such as shops and the cemetery, but other buildings may only be open during events. The Port Gamble Ghost Conference is held annually for a weekend in the fall and includes classes, ghost walks, investigations, and speakers.
Seattle Underground
When the city of Seattle was built in the 19th century, wooden buildings sprung up in what is now Seattle's Pioneer Square neighborhood. Then, in 1889, fire ravaged the city, destroying 31 blocks. City planners regraded the area, raising buildings one or two stories higher and building them of stone or brick. The new grading and buildings were built over the remains of the old city, leaving a network of tunnels and rooms under the ground. This hidden section of the city, known as the Seattle Underground, remains as a network of dark and spooky rooms and walkways.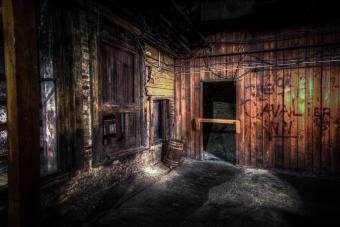 Almost from the beginning, rumors of strange happenings both in and under Pioneer Square arose. This prompted paranormal investigator and author Ross Allison to purchase a section of the famed Seattle Underground as the cornerstone of his haunted tour company, Spooked in Seattle. From its headquarters, Spooked in Seattle operates a number of ghost tours throughout its own section of the haunted underground and to other notorious Pioneer Square and Seattle area haunts.
In the underground, people report hearing voices, seeing apparitions, hearing other sounds, and experiencing numerous unexplained phenomena. According to Mark Simpson, who works at Spooked in Seattle, "Everyone who has worked here has experienced something. I have seen what appeared to be an apparition on a couple of occasions, have heard voices and footsteps when no one is there, and witnessed things that have been moved when no one has been in the room, as well as doors closing by themselves."
Kell's Irish Pub
Located in downtown Seattle, Kells Irish Pub is in the spot of a former mortuary and has plenty of rumored hauntings. People see full-bodied apparitions, and poltergeist activity like shattering glasses and breaking mirrors has occurred as well. People have also spotted shadow figures and had so many other paranormal experiences that the pub was featured on an episode of Ghost Adventures.
Mount Baker Theater
In the northwestern corner of the state along Interstate 5 sits the town of Bellingham, which overlooks Bellingham Bay and the San Juan Islands. In downtown Bellingham, you'll find a grand old theater, the Mount Baker Theater, which is a national historic landmark and performance venue that was opened in 1927.
The theater is one of Bellingham's most well-known haunted locations. In fact, rumors about the ghost, Judy, who roams the place have been around since the theater first opened. Judy has appeared in photographs, and many patrons have seen her. One common experience is seeing Judy in the mirror of the ladies' bathroom before she disappears.
The author of this article grew up in Bellingham and had a personal encounter with Judy when attending a movie at the theater as a preteen. "I was about 11 and we went to see The Sound of Music at the theater. During the movie, I went to the bathroom and was the only one there because the movie was in progress. As I was washing my hands, I looked in the mirror and saw a woman standing behind me, looking at me over my shoulder. As soon as I made eye contact, she faded away. It was a pretty creepy experience for an 11-year-old girl."
Tokeland Hotel
Located in the tiny town of Tokeland on Washington's Olympic Peninsula, the Tokeland Hotel is Washington's oldest resort hotel. It was built and opened as an inn in the 1880s, and the building is on the National Register of Historic Places. The building boasts period guest rooms and a small restaurant.
The hotel's owners have embraced its haunted history, pointing out the rooms where guests are most likely to have a paranormal experience. Many of the stories of ghosts center around Charlie, a Chinese immigrant who reportedly died in a secret hiding space behind the fireplace. Paranormal investigators frequent the hotel, and many have reported capturing electronic voice phenomena and photo anomalies. Reports also exist of disembodied voices, footsteps, and playful and friendly poltergeist style activity.
Manresa Castle
Located on the Olympic Peninsula in Jefferson County is the historic town of Port Townsend. Along with the town's charming Victorian homes that dot the hillside above the sea and a quaint downtown area is a century-old castle overlooking the town. Manresa Castle was built in 1892 as a private home, and it later functioned as a vacation home for nuns and then a Jesuit college. Today, it serves as an atmospheric historic hotel.
The castle's hauntings have been known for decades in Washington State, leading Ghost Adventuresto film an episode there. Hauntings include sightings of a Jesuit priest who reportedly hanged himself in the attic (there are no historic accounts to back up this legend), electrical disturbances, doors opening and closing on their own, and lots of paranormal activity in the guest rooms and hallways of the third floor.
Lewis County Historical Museum
Located in the small southwestern Washington town of Chehalis, the Lewis County Historical Museum is a 1912 Mission-style train depot that has been converted into a museum. Since the museum moved its exhibits into the building in the 1970s, visitors, volunteers, and employees have all reported ongoing paranormal activity.
Phenomena include multiple apparitions and shadow people, including a few children, poltergeist activity, and lots of phantom sounds and aromas.
The museum's huge and detailed electric toy train display is known to turn on by itself. Visitors also report seeing a man in a train conductor's uniform hanging out by his former office, and an aggressive presence creates feelings of dread as it patrols a makeshift storage loft in the museum's staff area.
When staff members are alone in the museum, they report hearing the sounds of a busy train station such as people talking, rolltop desks slamming shut, and chairs rolling across the floor.
Meeker Mansion
Meeker Mansion in Puyallup was built in 1890 by area pioneer Ezra Meeker. The Victorian mansion is a known haunted hot spot. Visitors report smelling the aromas of old-fashioned perfume and the appearance of shadow figures and full-bodied apparitions believed to be Meeker and his wife, Eliza.
Visit Haunted Places in Washington
Washington is so full of haunts, it's nearly impossible to list them all. Whether you're visiting one of Washington's haunted military forts, enjoying the great outdoors with a haunted hike, or exploring the site of the worst avalanche disaster in US history, visitors and residents to the state are sure to find ghosts if they know where to look.