With Wild West lore and culture galore, Albuquerque is a haven of ghostly delights. Visitors to the Southwestern city can tour museums, shop at one of the Southwest's largest outdoor flea markets, or gallivant with ghosts. For those seeking a spectral experience, hang out at haunted places in Albuquerque for ghostly thrills.
Hotel Andaluz
Hotel Andaluz opened in 1939 and is on The National Register of Historic Places. This luxury boutique hotel has several resident female ghosts. Perhaps these women enjoyed their stay so much at the hotel they decided to linger long after their deaths.
One apparition paces the lobby, showing herself to surprised guests. The ghost of a little girl named Emily resides on the second floor. She loves to play with the guests' jewelry and rearrange it on the bedside tables. You might catch a glimpse of the hotel's two fashion queen apparitions. One spirit resides on the seventh floor and wanders about the hallways. She's wearing the latest 1940s outfit and seems oblivious to the guests. On the fourth floor, you might see the ghost of an old woman, dressed in a pink gown.
If you want a good night's sleep, avoid Room 409. This resident spirit doesn't materialize, but makes her presence known in the middle of the night. She begins by moaning and quickly builds into a volley of unearthly, banshee-like screams that startle fourth floor guests awake. Check in if you're feeling brave.
KiMo Theatre
KiMo Theatre opened in 1927 and in 1977, a group of citizens saved it from demolition. Today it features a wide variety of performers and performances.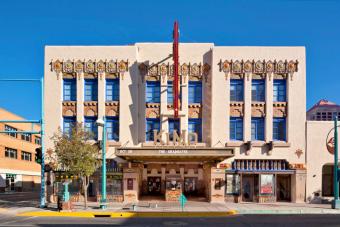 The resident ghost is a six-year-old boy name Bobby Darnall. Tragically, in 1951, Bobby died in the lobby when the theater's water heater exploded. In tribute to little Bobby, a shrine was set up in the back of the theater.
Patrons and performers see Bobby's ghost darting about the theater. It seems Bobby loves donuts and people leave these tasty treats for the little ghost. One time, the performers ate Bobby's donuts but quickly regretted it. During the performance that night, the stage lightbulbs exploded and several times the actors forgot their lines. It was the last time anyone messed with Bobby's donuts. Stop in for a show and say hello to Bobby's ghost.
San Pedro Library
The San Pedro Library opened in 1925. There are a few resident ghosts and various paranormal occurrences. One spirit is a former librarian. She quickly shushes anyone speaking too loudly. Her disembodied voice reminds patrons to come check out a book. The lights turn on and off by themselves, objects disappear and reappear in a different area, and books appear in the wrong place after being returned to their proper place on the shelf.
Phantom footsteps in the book aisles and disembodied giggling of children startle library patrons who linger at closing time. Full-bodied apparitions of children emerge from the darkened corners, and strange lights glow in darkened areas. If you venture inside the library, just remember no screaming regardless of how frightened or spooked you become; after all, it is a quiet zone, and rumor has it there's a ghost librarian ready to shush you.
Church Street Cafe
Built in 1709, the Church Street Cafe was 18-room home of the Ruiz family until 1991 when the last family member died. The Ruiz home was purchased, renovated, and turned into the Church Street Cafe.
When the new owner began renovations, the spirit of the Ruiz matriarch, Sarah, was unhappy. The female apparition suddenly appeared and screamed for the new owner to get the contractor out of her house. Despite missing tools and buckets kicked over, the construction crew continued with the renovations. Eventually, Sarah came to terms with the new purpose of her beloved home. Once the cafe was completed, Sarah stuck around.
She appears to patrons wearing a long black dress. Sometimes, her spirit feeds ghost chickens in the back of the building. It's believed that other family members often join Sarah in playful antics. These ghostly pranksters touch patrons and waitstaff, slam doors, and move objects. Visitors also hear the sound of a ringing phantom telephone. Church Street Cafe is a favorite spot with locals and visitors.
Hotel Parq Central
The luxurious Hotel Parq Central wasn't always a hotel. It was built in 1926 as a hospital and later as a psychiatric facility, and haunting rumors existed even back in the day. Some of the ghostly encounters patients and staff encountered when the hospital was in operation included objects moved by an invisible force and bed linens ripped from sleeping patients. Ghosts and apparitions also appeared frequently.
A female apparition haunted the right wing of the hospital, preferring to wander the top floor. She lurked about the hallways, watching patients and hospital staff. Disembodied whispers and shadow people were common sightings. It appears that the renovated hotel inherited these ghosts.
Some hotel guests feel they're being watched. A female apparition dances about the third floor. Late at night, guests hear phantom foot shuffling and disembodied whispers. Some of these same ghostly sounds echo in the hotel stairwells that are hotspots for other paranormal activity. It's the perfect place to go spend a New Mexico night with a ghost.
Haunted Places in Albuquerque
Haunted places in Albuquerque feature ghosts that often interact with visitors. These resident spirits offer a greater insight into the historical significance of each place.