11 Real Ghost Pictures That Are Actually Real 
11 Unexplained Pictures That Could Be Real Ghosts
Amazing pictures that might be real ghosts offer convincing evidence of ghosts and hauntings. Not all ghost pictures can make this claim since it's sometimes impossible to know if photo anomalies are spirits, while some are outright fakes. Taken at haunted locations, some during paranormal investigations and ghost tours, the unexplained anomalies in these 11 ghost photos are pretty convincing. Some of these photos are famous while others were obtained from paranormal investigators and experiencers who haven't widely shared their images.
Ghost Cat Caught on Video
Rob St. Helen, a paranormal investigator in the Portland, Oregon area captured this image of a ghost cat on his video camera system. Rob was in room 215 at the McMenamin's Edgefield Hotel in Troutdale, OR. That's him lying on the bed in the channel 2 image. If you look closely, you'll notice the outline of a cat on Rob's chest, nudging its nose up against Rob's. Ghost cats are a commonly reported phenomena at the Edgefield.
A Ghostly Arm in Memphis
Robert Fountain of Spectral Tech, a paranormal investigation team in Tennessee, captured this photograph at the Woodruff-Fontaine house in Memphis. Bob believes it is the hand of a boy, reaching out to touch one of the team's instruments.
According to Bob, "We were in the bedroom of a boy that lived there all his life and died there. I placed a K2 meter on the chair and then placed the digital recorder there and asked permission to take a picture."
Bob suggested the spirit answer by causing the meter to light up.
"When it lit up I took two pictures rapidly. The second picture captured a mist focusing on the recorder. When we played back the recorder we got the sound of me taking the pictures and a very faint voice saying, 'I'm trying.'"
Avalanche Ghosts in the Cascade Mountains
In 1910, the United States' worst avalanche disaster occurred in the Cascade Mountains of Washington State in a town called Wellington. Nearly 100 people died. Today, the location is considered one of the state's haunted hotspots.
Paranormal investigator Shane Bodiford captured this image in 2008 at Wellington, which is now a rails to trails hiking path along the Iron Goat Trail. At the same time Shane captured this image, members of his team also caught an electronic voice phenomena (EVP) recording of what sounded like an avalanche, followed by a voice saying, "Avalanche! Let's get out!"
Another Ghost Photo at Wellington
In this photo, I (the author) was in the snow shed along the hiking trail at Wellington, WA in 2009. I felt someone behind me and handed my camera to my son to snap a picture. In the photo, down the snow shed over my right shoulder, you can see a glowing human figure. The next image shows the close-up detail of the figure. There were no other people behind me in the snow shed.
Ghostly Shadows on the Queen Mary
The RMS Queen Mary is one of California's well-known haunted ships. Nicole Strickland has written two books about the haunted ship, and she supplied this picture, captured by Rachel Ashelman on the stairs near the swimming pool. It is a location aboard the ship that is commonly reported as having plenty of paranormal activity.
Another Queen Mary Ghost Shadow
Here is another photo from the Queen Mary, also captured by Rachel Ashelman. This one is on the promenade, and you can clearly see it as a dark, human-shaped shadow nearly center shot.
Kenton Station Ghost Photo
On the third Thursday of every month, White Light Paranormal Insight offers ghost tours in the basement of haunted Kenton Station in Portland, OR. One night, team member Tracy Rowlands snapped a photograph where she saw some movement. In the photo, you'll see a blue door on the right side of the picture. Behind that are two wooden pillars. You can see the human-like figure standing off to the right of the second pillar. There was nobody standing there at the time.
Photo of the Kenton Basement Ghost
In this photo, which was taken at Portland, Oregon's haunted Kenton Station, Kristen Gray was leading a ghost tour and talking about how the basement once was home to boxers when this picture was snapped. You see Kristen standing on the left, and to the right of her appears a ghostly face. Kristen reports there was no one behind her.
The Ghost of the Walker Ames House
Located on the Kitsap Peninsula in Washington State, the town of Port Gamble is full of charm - and ghosts. Much of the town is rumored to be haunted, a fact that is celebrated every October during the Port Gamble Ghost Conference.
The town's crown jewel is the Walker Ames house, a three-story mansion that is a favorite investigation spot for paranormal teams in the Pacific Northwest. Elaine Davison Meredith of Western Oregon Organization of Paranormal Investigators (WOOPI) was in the basement of the Walker Ames house when she captured this image.
Look to the right of the chimney, to the wooden pillar on the back right. Notice that behind the pillar, there is what looks like the back side of someone's body poking out from behind the pillar. There was nobody there at that time, and no one has been able to re-create this photograph. It's interesting to note that one of the commonly encountered spirits in Port Gamble is in the basement of the Walker Ames house, where Elaine took this photograph.
Waverly Hills Ghost Phhoto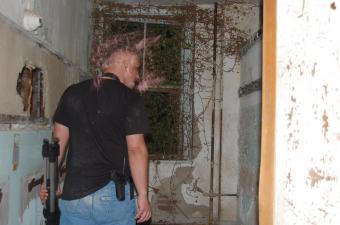 The Waverly Hills Sanatorium in Louisville, KY is one of this country's most well known haunts. Chad Wilson, publisher of Paranormal Underground Magazine, believes he has photographic evidence of his encounter with a spirit when he visited Waverly Hills. Fellow investigator Dacie Dale captured this photo of Chad. Notice there is a light anomaly around Chad's head, which he believes may offer photographic evidence of one of the hospital's many resident ghosts.
Sorrel Weed House Ghost
Attorney Preston Tuley was on a tour of the Sorrel Weed House in Savannah, Georgia, when he snapped a photo of what he believes to be a slave woman standing in a window of the home's slave quarters. The Sorrel Weed House is one of Savannah's historic homes, and it's also one of its most well-known haunted locations.
Recognizing Real Ghost Pictures
It's easy to fake a ghost picture, but it's also relatively simple for an experienced eye to detect doctored images. These pictures have all been examined by people with an expert eye, and they come from trustworthy sources with excellent reputations in the paranormal field. They may indeed offer photographic evidence of ghosts. While opinions about paranormal photos vary and theories abound, images captured by people all around the world just may point to evidence of the afterlife.