Area 51 jobs are almost as elusive as the famous secret military base that's located about 80 miles from Las Vegas, Nevada. Only one job ever has been openly advertised at Area 51, so before you begin, you need to know it's not going to be easy to even discover what types of Area 51 jobs are available or if you qualify. With that in mind, there are a few steps you'll need to take before you can get your foot in the door to one of the most protected and clandestine military bases in the world.
Meet General Eligibility Requirements for Area 51 Jobs
Area 51 jobs, like jobs at any military test facility, are highly competitive. Rumored to be the testing facility for new aerospace technology, public knowledge about Area 51 jobs is limited. However, based on former employees and contract information gleaned from websites like Glass Door, there are a few known general requirements. These include the following:
You must be a minimum of 21 years old.
You must be a US citizen (if foreign, you must be eligible to work for US government military facilities).
You must pass an extensive background check (the slightest infraction, like a traffic ticket can disqualify you).
You must either be in the military or be a civilian military contractor.
You need to live in the Las Vegas, Nevada area or be willing to relocate there.
You must work in one of the necessary disciplines; possibly within the aerospace specializing in aeronautics, engineering, or technicians.
You'll need the appropriate level of security clearance required for the position you seek.
You will be required to sign a legally binding non-disclosure agreement.
Go Through a Recruiter
It may be difficult to get an Area 51 job if you don't know where to find such job listings. Using one of the job websites that specializes in jobs that require clearance is one way. Since Area 51 is such a highly guarded base, knowing exactly what jobs might be available is impossible. However, you can assume certain career fields lend themselves to the rumored type of work that goes on at Area 51 as a military base engaged in aerospace testing.
Military Contractors Might Secretly Recruit for Area 51
The very nature of Area 51 makes it highly difficult to get a job on the base if you aren't part of the military complex or have some kind of inroad or connection. You may ferret out a position by going through one of the federal job recruiters, especially those responsible for recruiting positions that require clearance. A military contractor firm is a very likely place that might secretly recruit for specific jobs at Area 51.
JT4 Holds the J-Tech II Contract for US Air Force and Navy
JT4, LLC corporate offices are located in Las Vegas, Nevada and were originally JT3. In 2015, JT3 restructured to form JT4 LLC. JT4 won the J-Tech II contract for the DoD (Department of Defense). This means under JT4's Joint Range Technical Service Contract (J-Tech II), the company provides support personnel to the US Air Force and Navy.
JT4 provides both military branches with the engineering and technical support needed for various western test ranges, including Area 51. Employees report via Glass Door that JT4 offers many training opportunities. It's a very good venue for veterans. However, if a new hire isn't former military and doesn't have a clearance rating, JT4 will assist in getting the clearance for you. Some of the positions that JT4 hires for include quite a few different areas of engineering. A sampling of some of these jobs includes:
Field Engineer - Requires experience in airfield systems, operations, mechanical, and maintenance
Flight Test Engineer - Serves as the senior technical advisor and develops scheduling for maintaining and installing systems as well as maintenance as a supervisor for engineers in this department
Network Field Engineer - A senior position within the communication field that is responsible for various networking systems
Telecommunication Field Engineer - Requires experience in multiple networking equipment and other telecommunication technologies, such as fiber optics, LAN, voice and data, and communications infrastructure
Weather Forecaster - Responsible for forecasts and updates to the air traffic control, aircrew, and various agencies on the base
Existing Military Personnel Often Selected for Area 51 Jobs
Another avenue to a job at Area 51 is to join the military. If you're in the military and hold a security clearance, you can use channels not available to civilians to ferret out these highly secretive jobs. Another venue is to search private defense companies' job boards.
Former CIA May Have Inroads to Area 51 Jobs
You can also join the CIA. It's a common belief that if you work now or in the past for the CIA, your chances of getting inside Area 51 are much greater than those of the average civilian. It largely depends on your status, clearance, and your position within the CIA either in the present or past.
Use a Recruiting Firm That Specializes in Highly Sensitive Positions
Recruiting firms, such as Sparks Group, advertise as security clearance recruiting firms. These firms specialize in staffing/recruiting for highly sensitive areas that require staff with security clearances. These positions may be located at a government facility or could be at a government contractor's worksite.
Go Through Agencies That Place Security Clearance Jobs
You can find all kinds of open jobs that require clearance. Some jobs are with federal agencies, while others are through the private sector serving the military, like JT4. You probably won't know if the job is for Area 51 until after you're hired.
One of the more popular websites for government jobs is ClearanceJobs. The website advertises that it's the largest catering jobs site to those with federal government security clearance. The website boasts you will find nearly 50,000 security clearance jobs from a little over 1,700 pre-screened hiring companies. These positions are in various states and possibly other countries.
Get a Security Clearance Through a Federal Agency
There are several security clearance levels for federal jobs. The only way you can get a security clearance is through a federal agency. The type of clearance you'll need depends on the job and type of information you'll have access. If you're required to have a national security clearance level, agents will interview the people you are living with or have lived with in the past. Your coworkers and supervisors will also be interviewed by federal agents. The typical time frame of your past history that is investigated is the last seven years. This can include questionnaires sent to family and friends that must be returned promptly to ensure your vetting process moves forward. Depending on the level of security clearance you're applying for, you and those connected to you might be required to undergo background checks that are more thorough the higher the level of clearance. If you're a private person and are uncomfortable with your life being examined and becoming an open book, then this isn't the type of job you'll enjoy.
The federal agencies that provide security clearance include:
Civilian military agencies - These include the Defense Intelligence Agency and the Defense Security Service.
Diplomatic agencies - These include the State Department and the United States Agency for International Development.
Federal law enforcement agencies - These include the Federal Bureau of Investigation (FBI), Drug Enforcement Administration (DEA), and Naval Criminal Investigative Service (NCIS).
Intelligence community - This includes agencies such as Central Intelligence Agency (CIA) and National Security Agency (NSA).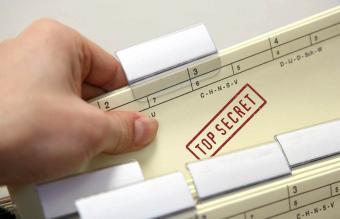 Work in a Specialized Field
Positions at Area 51 may be highly specialized and likely include disciplines in science and technology while other jobs may have more practical considerations.
Science and technology positions might include IT software and hardware development, systems engineers, programmers, field technicians, or other tech jobs.
Aerospace and aviation positions would most likely require personnel with advanced skills, experience, and knowledge.
Security personnel might range from facility and cyber security to various military law enforcement.
Construction engineers might be needed to assist in expanding and maintaining the base.
Mechanic positions would be responsible for maintaining and repairing various military equipment on the base.
Industrial engineers and electrical engineers might be popular positions. Both jobs could be involved in the installation and maintenance of various types of equipment and technology.
Reliability and maintainability engineer positions would need experience working with civilian and defense related systems. A typical requirement is several years' experience in DoD R&M engineering.
Try to Apply for Operational, Support, and Service Jobs
You can assume that a military base requires a fairly large body of support personnel that might be composed of military and civilian employees. Many of the military personnel most likely live on the base. Some military personnel along with civilian employees likely live in the Las Vegas area and commute every day via the short hop flights. Some of the possible positions might include:
Janitorial to provide cleaning services throughout the facilities, such as washing floors, bathroom cleaning, trash collection, kitchen and dining areas
Food services would need workers in the kitchen and dining hall, such as cooks, food preparations, cafeteria style service, bussing of tables, and dish washing
Facilities operation is charged with keeping all the building machinery and equipment in working order as well as the ground upkeep
Administrative and office positions might include office workers in all departments that could include clerical, admin, logistics and supplies, materials, accounting, and other departments
Only Job Ever Advertised for Area 51
In 2018, AECOM, an infrastructure firm, shocked the UFO world by posting the first position ever advertised for Area 51. No other jobs for Area 51 have been posted to the public since.
The 2018 job posting was for a pilot to make the daily flights of the not so secret Janet Air (Just Another Non-Existent Terminal). This is the only position that has ever been openly advertised for Area 51. However, because AECOM was the recruiting company, it's reasonable to assume it wasn't the first time the firm had recruited for Area 51.
How to Get Area 51 Jobs
Area 51 is a highly secretive military base known for its high security. You'll need a security clearance to qualify for most of the jobs at this mysterious military base, and finding a job there is very likely extremely difficult.