Famous Energy Vortex Locations Around the World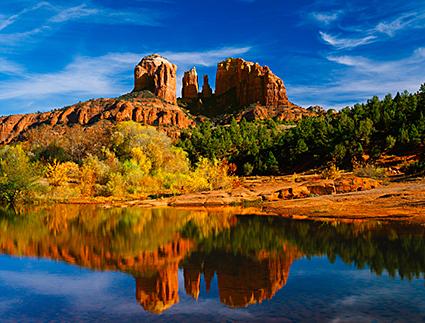 There are energy vortexes all around the world, including several in the United States and North America. One of the most famous locations for energy vortexes is in Sedona, Arizona, which has multiple energy vortexes, but there are many others as well. Discover what an energy vortex is and find locations for these energetically charged spots all across the planet.
What Is an Energy Vortex?
An energy vortex is a location with powerful spiraling Earth energy. Something in the land formations of these areas allows for increased spiritual energy, and theories abound as to what this could be. It may be due to the geological makeup of the land, how the land was used, who inhabited it in ancient times, or other energetic factors such as the convergence of ley lines. Such vortexes are believed to be highly spiritual in nature, and many attribute healing properties to them. If you've ever visited an energy vortex, then there's a good chance you've felt this energy.
What Does an Energy Vortex Feel Like?
Different people have varied experiences in energy vortexes, but some things people report include the following:
Profound spiritual experiences
Physical, mental, emotional, or spiritual healing
Tingling sensations in the body
Increased sense of spiritual clarity or understanding
Increased psychic ability
Rush of energy
Shift in consciousness
Altered perceptions
A sense of euphoria or bliss
Increased inspiration or creativity
Increased paranormal or anomalous activity
Famous Energy Vortexes in the United States
There are multiple energy vortexes in the United States you can visit. Some are so well-known that spiritual communities have sprung up around them.
Sedona, Arizona
Sedona, Arizona is a known spiritual hub of energy that attracts people from around the world. There are four major vortexes in the Sedona, Arizona area along with a few lesser known vortexes. These include:
Airport Mesa Vortex - Sedona's most easily accessed vortex site is on the road to the airport, which sits on a mesa above the town. It's a short quarter-mile walk from the parking area to the vortex up a well-marked and easy to travel path.
Bell Rock Vortex - This vortex is extremely powerful in its energy, and you can feel it if you're anywhere near Bell Rock. There's a hike and a climb involved, as well as two access points; however, the vortex is so strong that you don't need to be on the rock to feel the energy.
Boynton Canyon Vortex - It's an easy hike to the Boynton Canyon Vortex, so it's a good one to visit for vortex hunters in all levels of physical condition. Expect to walk about 1/2 mile from the parking lot.
Cathedral Rock Vortex - The hike to the Cathedral Rock Vortex is challenging; you'll only travel about 3/4 of a mile, but in that short distance you'll climb about 650 feet. The vortex is in the saddle of the rock.
Additional vortexes in or around Sedona are located in the following places:
Buddha Beach
Oak Creek Canyon Overlook
Energy Well Spring (Oak Creek Canyon)
Mount Shasta, California
Located in Siskiyou County in Northern California, Mount Shasta may not be as well-known for its energy vortexes as Sedona, but it is the second most well-known energy vortex in the United States. The entire mountain is believed to be an energy vortex, and whether you're on the mountain or in the nearby town of Mount Shasta, you can feel the healing energy and pull of this incredible location. The town of Mount Shasta has sprung up as a community of spiritual seekers and sages who have come to enjoy the spiritually powerful region, so it's a lovely place to visit if you're looking for spiritual healing and want to meet other like-minded individuals.
Other Energy Vortexes in the United States and North America
Outside of Sedona and Mount Shasta, many other locations are believed to be energy vortexes as well, including:
Crater Lake, Oregon
Denali National Park, Alaska
Garden of the Gods, Colorado Springs, Colorado
Lake Louise, Alberta, Canada
Mount Mitchell, North Carolina
Ojai, California
Oregon Vortex, Gold Hill, Oregon
Petroglyph Park, Nanaimo, British Columbia, Canada
Red Rocks Amphitheater, Denver, Colorado
Ringing Rocks, Doylestown, Pennsylvania
St. Augustine, Florida
Taos, New Mexico
Famous Energy Vortexes Around the World
Energy vortexes are not unique to North America. You can find many energy vortexes around the world, including some of the following, which are the most well-known.
Glastonbury, England
In England, the town of Glastonbury is believed to be the intersection between two large energy streams, creating an energy vortex. You'll find two energy vortexes here at the Glastonbury Abby ruins and at Glastonbury Tor.
Machu Picchu, Peru
An electromagnetic subterranean energy is said to reside in the Inca Citadel of this famous mountain. Machu Picchu is one of Peru's most popular tourist destinations. This Inca ruin is said to be responsible for many healings and spiritual awakenings. In fact, the entire region is known for ancient mysticism that's still prevalent today.
Great Pyramids of Giza, Egypt
Known for unique energies and spiritual awakenings by visitors, these are the most famous of the Egyptian pyramids. No one truly knows the original purpose of these mighty structures, but they were built using the universal mathematical constant of pi. In fact, many claim that these Golden Ratio buildings demonstrate a very important purpose. Many people believe that the pyramid form, when built using these specific mathematical equations, will aid in healings.
Himalayas, Asia
The tallest mountain range in the world is famously known for the challenge of climbing Mount Everest. This Asian range stretches across five countries, including India, China (Tibetan Plateau), Bhutan, Nepal, and Pakistan. India, Bhutan and Nepal are recognized as the sovereigns of the mountain range. The Hindus and Buddhists revere the mountains as sacred, and spiritual sojourns to the Himalayan range are common. Mount Kailash (or Kailas) is located in Tibet and known as the seventh (crown) chakra of the world.
Mayan Ruins, Tulum, Mexico
On Mexico's Yucatan Peninsula, you'll find the Mayan ruins at Tulum. Many believe these ruins are imbued with deep spiritual resonance arising both from the location and from the mystical energy of the Mayans who once inhabited the city.
Easter Island, Chile
This Pacific Island holds 887 carved humanlike statues that were recently discovered to be nearly twice the size as the portion exposed above ground. Easter Island is commonly believed to be within a large black spiral. The island was formed by volcanic activity and is in keeping with the vile vortex pattern that crosses the planet.
Stonehenge, Wiltshire, England
Sitting in the center of a convergence of 14 major ley lines, the ancient site of Stonehenge has long been believed to be an energy vortex. A prehistoric monument sits here, and the purpose of the monument is the subject of legends and mystery, since no written records exist explaining the purpose of the monument. Still, visitors here report feeling deeply spiritual energy that likely comes from the convergence of the ley lines that create this powerful energy vortex.
Visiting Energy Vortexes
Visiting energy vortexes when you travel is a great way to recharge. Many visitors to these locations have had profound spiritual experiences that have left their lives forever changed.