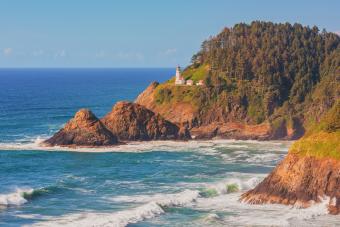 Oregon is a beautiful state with an awe-inspiring coastline, tall timber forests, scenic rivers, and the high desert. Known for its Pinot Noir wine, bountiful agriculture, and keeping Portland weird, Oregon is also a paranormal lover's paradise. From ghosts associated with shipwrecks on the state's rugged coastline to spirits that haunt Oregon's Pinot Noir wineries, if you're looking for a ghost in Oregon, you're in luck. The state has many haunted hot spots.
Golden
Sometimes a town has so much ambience and authenticity, it becomes a filming location for a TV show. That's exactly what happened when the television show Gunsmoke filmed in the abandoned ghost town of Golden, which sits in Southwestern Oregon in Josephine County. The show left behind its prop graveyard, which remains just outside the tiny abandoned church in the heart of the four building ghost town, and it adds a scenic touch to this well-preserved site that's on the National Register of Historic Places. Fake graveyards aside, Golden, which at its peak had about 100 residents, may have people who have remained years after their death.
The reality TV show Ghost Adventures filmed in Golden, exploring claims of paranormal activity that intrigue local ghost hunters. Witnesses report encountering entities around the site and in three buildings: the school, the church, and the general store. People see shadows, hear strange sounds, and notice feelings of unease and discomfort.
Wolf Creek Inn
Also in Josephine County (exit 76 off I-5 South), you'll find the Wolf Creek Inn & Tavern. Owned by the National Park Service, one of Wolf Creek Inn's claims to fame is that Clark Gable and Jack London both slept there. It's the oldest continually operating hotel in the Pacific Northwest, and it sits along the historic Applegate Trail.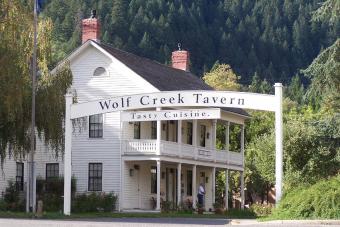 Another claim to fame is its recent appearance on Ghost Adventures. This charming inn and restaurant looks quaint, but it's riddled with rumors of hauntings. Visitors see full-bodied apparitions, experience electrical disturbances, and hear voices and footsteps. People also hear phantom music, and doors slam by themselves.
You can stay at this inn or stop and dine in their delicious and charming restaurant.
Kenton Station
If you happen to be in Portland on the third Thursday of the month, you may want to check out the Kenton Station haunted basement tour offered by White Light Paranormal Insight. The tour is free, the history is interesting, and the food is tasty, so plan to arrive early for a meal. Built in 1909, the station became known for its speakeasy and underground boxing ring located in the basement, which was connected through a series of underground tunnels to the criminal underworld of the town of Kenton (now a neighborhood in North Portland).
Kristen Gray, who leads the tours every month, has had plenty of encounters both on tours and investigations in the notoriously haunted basement. Among the claims Gray shares with visitors are shadowy figures, disembodied voices, and possible photographs of apparitions that White Light team members and tour guests have captured.
Oregon City
Rocky Smith is a lifelong resident of Oregon City, and he's passionate about preserving its history. Smith discovered that with that history may also come hauntings. In fact, so well-known are the hauntings in Oregon City, the town that sits at the end of the Oregon Trail, that Smith has a company offering ghost tours of the various haunts.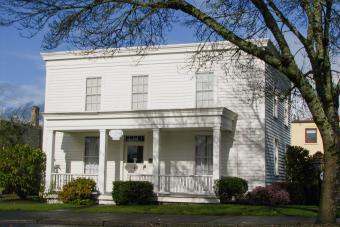 The ghost tours take walkers all over town, covering some well-known haunts. Smith became interested in the town's ghosts when he went to work as a teenager at the historic Ermatinger House. There, he had many encounters with spirits, including some that moved items in the house. Convinced he needed to tell their story and preserve the history, Smith became a passionate advocate for the history and hauntings in Oregon City, eventually founding Northwest Ghost Tours and offering detailed walking tours of the haunted downtown area, local haunted historic homes, and places along the Oregon Trail.
Oregon City is located east of Portland along the Willamette River.
Fort Stevens Park
The Oregon Coast is home to the state's oldest city, Astoria, as well as a host of ghost stories. One place that's open to the public is part of a coastal campground and park: Battery Russell at Fort Stevens Park. Located near Warrenton, the park itself covers 542 acres of what was once a military installation protecting Oregon at the mouth of the Columbia River.
In 1942, a Japanese submarine fired on Battery Russell, although the installation never returned fire for fear of giving away their position. No casualties were reported, but there's a crater near the fort's resident shipwreck, the Peter Iredale, a merchant ship that ran ashore in 1906. Today, the wreck of the Iredale is marked by the ship's skeletal remains, and Battery Russell's impressive concrete buildings sit empty inviting visitors to explore.
There are numerous reports of shadow figures, apparitions, and voices in the buildings at Battery Russell. When psychic medium and paranormal investigator Chuck Gotski visited Battery Russell a few years ago, he encountered a spirit named Seargeant Johnson who followed him throughout the abandoned bunker.
"As soon as I walked in, I felt as though someone was watching us. As we moved down inside the building, I started seeing flashes of a man in a military uniform with a stern look on his face," Gotski says. "I looked into the corner of the room and saw his face literally floating in the air." The Peter Iredale shipwreck may also be haunted by spirits of those who perished when it ran ashore.
Flavel House Museum
Stop by the Flavel House Museum in Astoria, a mansion built by one of the city's pioneers that many people believe is haunted. People report hearing ghostly piano music and footsteps, and several visitors have also spotted apparitions. One woman, possibly the lady of the house, Mrs. Flavel, appears on the second floor preceded by the aroma of floral perfume.
Argyle Winery
What do you do if you love wine and ghosts? Check out the Argyle Winery, a haunted winery in the city of Dundee in the heart of wine country.
Argyle has embraced its haunted history, even naming one of its wines after its ghost, Spirithouse Pinot Noir. According to Argyle, employees often interact with their ghost, who they believe is Lena Elise Imus. Lena committed suicide on the property in 1908 by drinking carbolic acid. Employees share stories of poltergeist-like activity, such as items falling off shelves and electrical disturbances, as well as smelling the phantom scent of perfume.
Heathman Hotel
The downtown Portland Heathman Hotel is one of the city's most haunted hotspots. The hotel is nearly 100 years old, and it has seen its share of tragedy that may contribute to its haunting. Legend says that a guest staying in room 703 jumped to his death, and guests staying in that room often report strange activity including misplaced items, unusual noises, drafts, and more. Oddly, guests in the 03 rooms below the 7th floor also often have similar encounters, and people throughout the hotel experience an array of poltergeist style activity such as televisions that turn themselves on and off, flashing lights, and more. It's a great place to stay if you want to come across a ghost.
Heceta Head Lighthouse
Located along the ruggedly wild coast in Florence is the Heceta Head Lighthouse, a haunted luxury B&B with a fabulous view. Visitors report seeing the apparition of a woman in gray who floats in the hallways of the inn. She's called Rue, since that's what she told the owners her name was via a Ouija board session. And while she's most likely to be found in Victoria's room, Rue makes an appearance all throughout the small inn.
Geiser Grand Hotel
The historic Geiser Grand Hotel in Baker City first opened to guests in 1889. The lovingly restored hotel once served as a haven for the rich during the Gold Rush, and today it's a charming spot for travelers and ghosts. Perhaps it's no surprise, then, that the elegant Victorian hotel also has a graceful Victorian-era ghost, a lady in blue seen floating about the place. Other ghosts that haunt the hotel include cowboys, chefs, and saloon dancers. It's the perfect place to experience a ghost from the Wild West. It's so well-known as an Oregon haunt that it's been featured on the paranormal TV show Ghost Mine.
Haunted Places in Oregon
No matter where you are or what you're doing in Oregon, there's a good chance you're near a haunted location. Stop by any of these places and see what you might experience.